When John was about six we tried to make biscuits and they closer to hard tack than biscuits! We didn't take up the recipe again until recently and we got it right this time! We included an extra recipe for baked eggs- they are perfect on top of the biscuits. The biscuits will last for a few days in an airtight container and the eggs will keep for a few days in the fridge- so a breakfast sandwich is always within reach. Enjoy!
Biscuits:
3C flour
2T sugar
1/2t salt
1T baking powder
3/4C cold butter
1C milk (we have used 2% or whole)
Heat oven to 450 degrees. Get to work on the butter- it needs to be really cold to make the biscuits light. Chop the butter into very small cubes. We quarter the stick and then chop it into cubes the size of corn kernels. Place butter cubes in a bowl and set it in the freezer. While the butter gets nice and cold, combine the dry ingredients. Then, add the chilled butter cubes and work it into the dry mixture with a pastry cutter or a potato masher. It will not become completely combined. You will still see pieces of butter. It is important not to over work the mixture. As soon as the mixture is crumbly, add the milk. We start off with a spoon, but quite quickly move to using our hands. The dough will be a little wet and definitely not perfectly smooth. Again, make sure not to overwork the dough. Set the dough on a well floured surface and roll it out to about 3/4 of an inch thick. Use a biscuit cutter, a cookie cutter, or even a drinking glass to cut the biscuits. Place them on a greased cookie sheet. Gather dough scraps and roll more out until you've used all the dough. We use a small cutter and get about 22 biscuits. We brush the tops with some melted butter (about 1T is enough) and sprinkle with course sea salt or sugar, but you can leave them plain. Bake for 12-15 minutes, until tops are golden.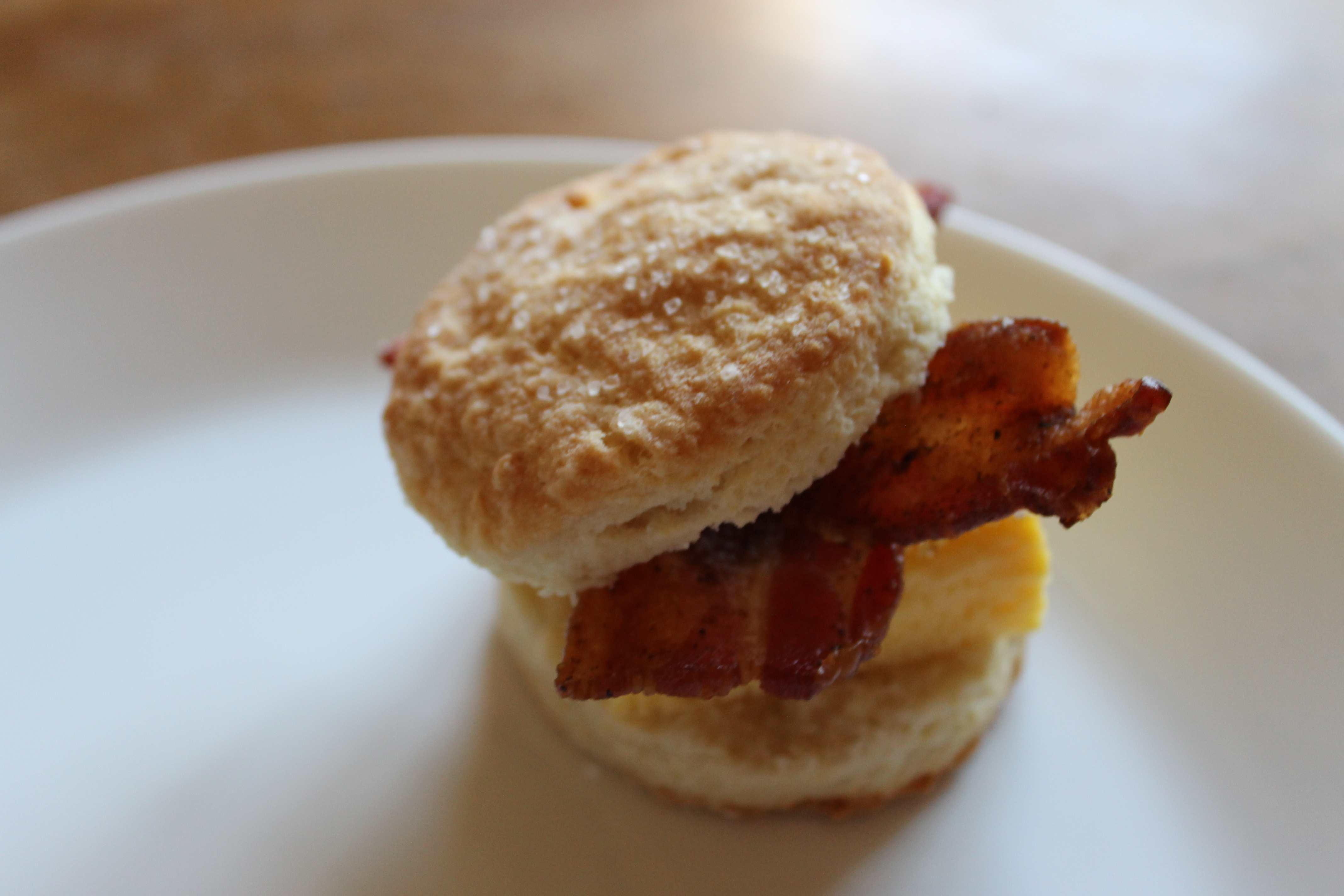 Baked Scrambled Eggs:
8 eggs
splash of milk
salt and pepper
Heat oven to 375 degrees. Crack eggs and place them in a blender. Add milk and salt and pepper and blend for about 20-30 seconds. John and I think this is the best way to beat eggs! Pour the egg mixture into an 8x8 greased baking dish. Bake for 14-16 minutes, until set. Let baked eggs sit for a few minutes and then slice into whatever size works for you! We love these eggs on bagels and toast, too!